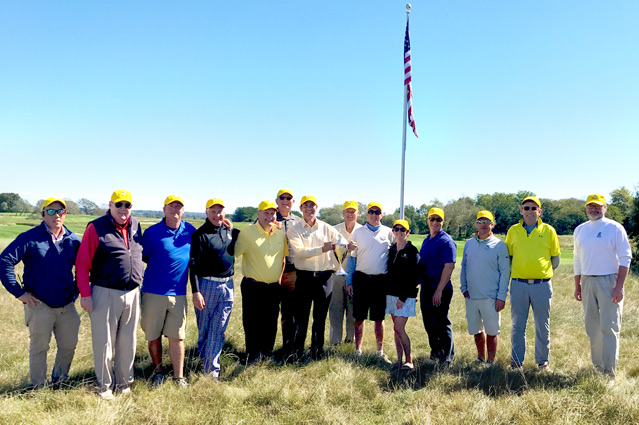 The Ham Man Can:
The fall weather had clearly arrived for the morning of the 2nd Annual National Cup competition, with temperatures barely rising to 48 degrees at tee off.  The event is comprised of two teams, separated into Aquidneck Island residents (The Islanders) and off-Island residents (The Mainlanders).
The format is set up in a Ryder/Presidents Cup format, featuring three 6 hole matches, one of partners alternate shot, one of partners best ball and one of individual match play.  Each match win is worth one point (half of a point for a tie), with a total of 24 points available, making the magic win-clinching number 12.5, that both teams would vie to achieve.
The defending champion "Islanders" squad was set to be the underdogs in this year's event, battling against a Mainlander team made up of many of NNGC's lower handicaps.  Bragging rights were fully on the line, as the Mainland team looked to rally in this year's event under first-year captain, Assistant Professional Brandon Hitti, in order to capture their first ever National Cup win.  But a scrappy Island squad would prove to be a formidable opponent once again, not easily letting go of their grasp on the coveted trophy.
The Island team raced out to an early start under captain and Head Professional, Andy Farrea.  The pairings put in place by the captain seemed to work magic, as team chemistry was abound in the partners' matches, putting the Island squad out to a dominating 8-4 lead headed into individual match play.  The teams of John Schlesinger and Hector Rodriguez, George Devine and Scotty Murray, Rob Forrest and Tim Dawson, would all dominate the team play, claiming all 6 of the available points for the Islanders in their respective team matches.
Needing only 4.5 points of the available 12 in individual match play to claim the title, the Island team would cruise to their second straight victory after reaching the magic point total number after the completion of just 8 of the 12 individual matches. Despite a shining effort from the Mainland pair of Mike Rogers and Keith Briggs (who claimed 3 of a possible 4 points in their matches), the Island team would not be denied under captain Andy Farrea, and won the right to call themselves National Cup Champions for one more year.