The National Cup
The National Cup of 2020 was a great success. This year's Ryder Cup style event had the highest member participation compared to previous years. With 32 entries, each team was carefully selected by the team captains, Head Professional Chris Hulme and Assistant Golf Professional Dave Johnson.
The Orchard Team was captained by Head Professional, Chris Hulme and the Vineyard Team was captained by Assistant Golf Professional Dave Johnson.
Weather was perfect the morning of the competition with partially sunny skies and a cool, subtle breeze.
As the day's matches started to unfold both captains couldn't believe how close the matches were.
Everyone knew the outcome of the match was going to come down to the last team match who posted their score. Indeed it did. With only one match remaining on the course, both teams were tied. The suspense was mounting and the plot was thickening with both the Vineyard and Orchard teams just waiting to cheer those infamous words, "We won!" Finally, Team Orchard came to the board and said exactly that.
Team Orchard not only defended their title but got to proudly hold the trophy once again!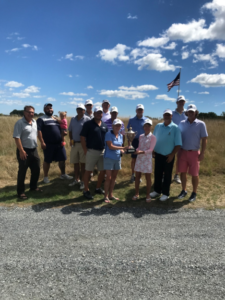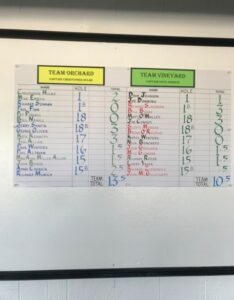 Members of Team Orchard Are:
Mike Emrick, Richard Seaman, Paul Finn, Pat Purcell, Bill Nahill, Jerry Shafir, George Oliver,
Kris Kennedy, Tom Allan, Paul Winters, Phil Altman, MaryAnne Miller Allan, John Burns,
Adam Correia, Richard Munich and Christopher Hulme.
Thank you to all the members who made this day a great success and congratulations to
Team Orchard!