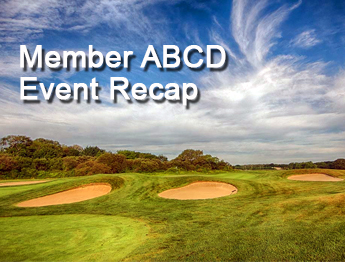 Member ABCD Event Recap:
With the official start of summer in Newport just one week away, Newport National's members enjoyed their annual "Member ABCD" event on Saturday, May 20th. The Member ABCD combines random pairings of members, of all abilities, and challenges them with a format where teams select the best drive on each hole. From that point, every player plays their own ball into the green. Players are allotted 90% of their handicap. This is a fun and inclusive format that gets players of all abilities involved, while also giving members, new and old, an opportunity to golf and mingle with other Newport National members.
Despite the chilly morning temps, the turnout was successful. The sun broke through and spiked the temperature to a comfortable 65 degrees, just in time for tee off. Scorecards were filled with birdies and even eagles from all teams. However, team of Rob Forrest, Brian O'Rourke and John McGillicuddy made just a few more than the rest of the field and took home the title of 2017 Member ABCD Champions with a blistering 21 under par net score of 51.
After the round, participants gathered at The Orchard Bar & Grill for dinner, drinks and the awards ceremony. The day marked a great official kick off to the 2017 golf season here at Newport National. Members now await the June 10th date of the Head Pro/Superintendent Revenge Tournament in which Head Professional Andy Farrea, and Superintendent Scott Roche, will roll out their toughest golf course set up and challenge all NNGC members to take it on!