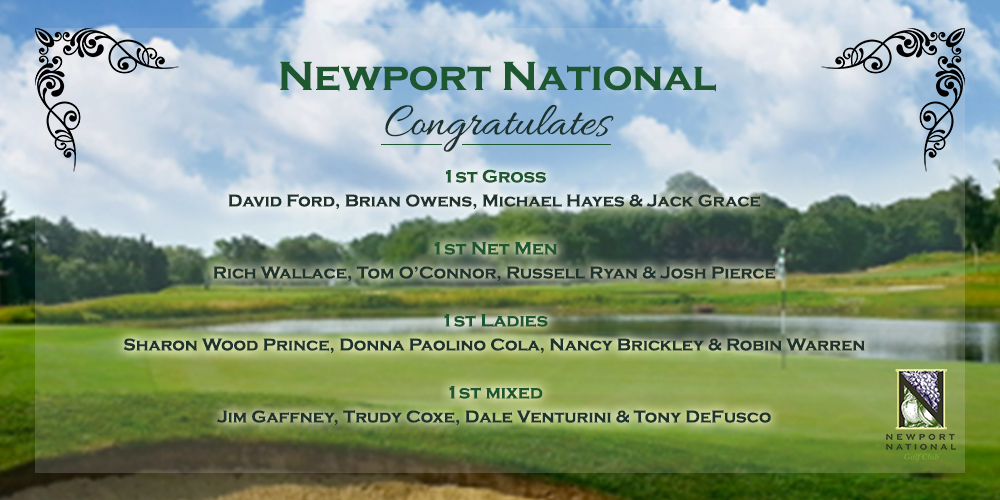 19th Annual Preservation Society Golf Outing
On Monday, August 5th 2019, the Preservation Society held its annual golf tournament at the beautiful Newport National Golf Club. The weather was perfect and so were the golf course conditions.
This yearly tournament serves as one of the Preservation Society's major fundraisers. Each year, more than $75,000 is collected to help preserve, protect and present the historic properties.
The annual tournament has a few divisions and listed below are this year's winners:
1st Gross ~ David Ford, Brian Owens, Michael Hayes & Jack Grace
1st Net Men ~ Rich Wallace, Tom O'Connor, Russell Ryan & Josh Pierce
1st Ladies ~ Sharon Wood Prince, Donna Paolino Cola, Nancy Brickley & Robin Warren
1st  Mixed ~ Jim Gaffney, Trudy Coxe, Dale Venturini & Tony DeFusco
Congratulations to all the winners and participants and thank you all for allowing Newport National to once again host this wonderful event. It is truly our pleasure.